Greetings everyone!
Here at Meet the Rock, we absolutely love to hear from our travelers! That is why we were so thrilled when reading Julie Horner's daily posts while on her trip. She loved her experience and shared so many memories and insights and so we want to share them with you! Enjoy!
Yesterday was a super long, hot day but we trekked thru it and saw so much! The jist of the day... Malta is super old, like probably one of the first places of civilization. Everyone wanted to claim Malta because of it's location in the Mediterranean, perfect for having a military presence at. It reminds me of Pittsburgh when it comes to driving... nothing is straight and constantly up and down hills. The landscape kinda reminds me of Vegas. It's very dry, hard ground and they surprisingly don't get that much rain here.
Today we took a tour around Southern Malta. We visited Collachio Waterfront, Victory Square, Birgu, Marsaxlokk, Blue Grotto, Hagar Qim Temples and watched the sunset at Dingli Cliffs.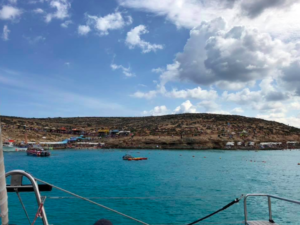 Some of today's highlights... I walked around our hotel area this morning before our tour took us to Valletta and Mdina. As we talked about today, it's amazing to see how this country was ready for war and to defend itself at any given time so many years ago. Also, so many churches!! They said 90% of the population on the island is Catholic.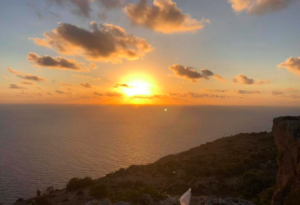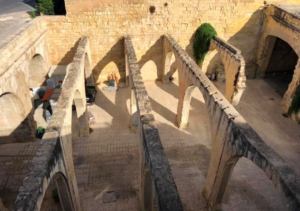 Today was an early day that included taking a ferry and then stops at Gozo, Dwerja, Victoria and Citadella. While in these places we saw breathtaking views, got to swim/kayak in the Mediterranean Sea and walked a million steps up hill to see the Citadella and lunch. Then we boarded a speed boat back to the hotel. I included another video of driving thru Gozo. Notice how close the bus is to cars and buildings. That is normal here. Don't forget that they also drive on the opposite side of the road and the steering wheel is on the opposite too. Some things I have noticed while being here... the Maltese are very literal. It's not a "restroom ", but rather a toilet. It's not a "mailbox", but rather a letter box. It's not an "elevator ", but rather a lift. There isn't any wood on the island so if anything is built with it, in must be imported. Therefore everything is built with sandstone. Everything. I doubt they have many destructive fires because other than the contents, there is nothing to burn. No wonder some of these buildings are from 1500. Talk about sound too, I hear nothing in my hotel room. Not a toilet flushing or a door slamming. Relaxing in my room tonight... another action packed day tomorrow.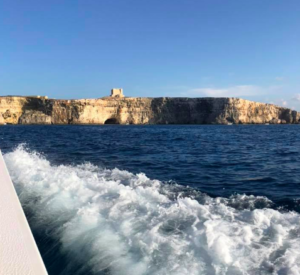 Today I headed out to the rocks along the sea... very neat to sit and watch the water. The water is not hot but warmer than the water in the pool. Lol. You will see in my one picture that apparently this is where beach glass originates because there are broken bottles everywhere and the people here don't collect the glass like we in America do. Then walked from St. Julians (where the hotel is) to Sielma and back. Cooled down and then boarded the coach for a culinary and wine tasting tour. The vineyards reminded me of North East, PA... very similar. Wine is HUGE in Europe and Malta is no exception as it's served at lunch and dinner. We stopped in Mdina ( I think) and had pastizzis. They are kinda like phyllo dough that they fill with cheese, peas or chicken. I had the cheese and they were definitely yummy! Then we headed back to Valletta for more sight seeing at dusk. We came across a small hotel that was interesting as you could see through the roof to the sky and the floors had glass to see the "basement ", although they don't call it that. Then we ate at a restaurant that is known for it's artisan wood stove that is easily over 100 yrs old and still used all day, everyday to prepare the breads and food. They used to prepare breads for the ships when they came into port. Then the sailors would take the bread on the ships for their journey. It's hard to even imagine living in that time. To be living during a war, while other countries are trying to bomb where you live. We in the USA are definitely very lucky to live where we do. Also, we learned the average monthly wage of someone living in Malta is less than $1000 but yet an apartment runs about $800/mo. They do have government insurance and college that is "free" for the residents but you will wait a year for a hip replacement. I quote "free" because they do pay 25-35% income tax so these items aren't "free"... always a catch.
Good morning from Malta. It's Thursday here... if you look on the horizon, you will see many ships that look lined up. We were told on our trip that they are oil tankers that are full and sit out there until the prices on oil go up.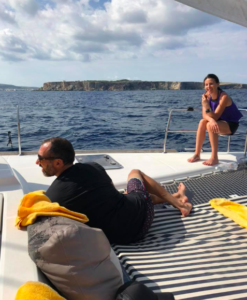 Today's adventure was riding a catamaran in the Mediterranean Sea. So cool!! We sailed for about 2 hrs to the Blue Lagoon where some brave people from our group took a swim in the cold water. Lol We also ate on the boat and then decided to go out around the rocks to the other side where either everyone felt brave or it was the vodka talking... lol because then some really brave people decided to do some cliff jumping.
On our ride back to our hotel we encountered our first bout of rain on the trip. Since most everyone was wet already, no biggie.
It's 9:40pm and as I sit here, I still feel like I'm swaying on the boat. Lol
So one thing that has been fun about Malta is their love of cats. They treat them like gods and people feed and take care of them. It's not uncommon to have one join you under the dinner table. They are the healthiest and friendly feral cats you will ever see!
Supposed to be the oldest pizza place in Malta.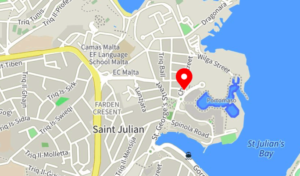 My last night in Malta, heading home tomorrow bright and early.
A few observations on my trip... not sure if it's all of Europe or just Malta but they don't serve you ice unless you ask for it. Water is either still or sparkling and always bottled. No straws either. Only paper ones that fall apart in your drink.
For those that really know me, I'm a pretty fast walker. I'm always on a mission. Well, these people put me to shame. Lol. I feel like a turtle around them.
Dinners at restaurants take HOURS. They probably think we are crazy to be done eating in an hour or two. The service is usually slow and you have to ask for your check. They are expecting you to drink wine all night. I doubt people here eat out often like we do in the US. Also, restaurants are generally very small. Only 4-7 tables. Most times this week our group took up the whole restaurant.
I have not seen any chain restaurants here except McDonald's, Burger King and Pizza Hut. Most places are family owned and operated.
I did go into a grocery store today. They call it a "food store", again everything is literal here. Their prices are pretty similar to ours.
Gas is quite a bit cheaper here. I saw prices around $1.23/gallon. Everyone drives tiny, manual cars. They are pros at parallel parking. I would too if I lived here. No where to park and roads are tiny. They also have patience of steel and put us to shame in the US with road rage. People pull out in front of each other everywhere and not 1 horn beep.
I feel like they have less "rules" here. I noticed different things during the week like construction areas where there were extension cords ran across the road/sidewalk, guys working right above you as you walked below. We asked our tour guide about drunk driving because everyone here drinks wine all night. He said as long as you don't hit anything, the police won't bother you. I honestly didn't see more than 5 policemen all week and that was on foot. Not 1 police car. Everyone just gets along. If you're gonna trip and fall on a cord, I guess you better watch where you are walking. Lol
The people here are hard workers. They have a 4% unemployment rate...
all week long people have called me madame.
October 14 at 4:30 AM ·
So here's my take on traveling... not complaining cuz security has become a way of life... security in foreign countries is similar but different. I was full on felt up yesterday 3 different times by security on foreign soil. From top to bottom but we didn't ever have to take our shoes off. If that had happened here, people would have had 10 fits. My carry on was scanned but never searched either.
This morning in Atlanta, I didn't get a pat down nor wanded with the metal detector but my carry on was gone thru with a fine tooth comb. Mind you, nothing in it was different about it from here to there. Also, since International flights were missed yesterday... your bag does not fly if you don't. Not the case here in the US.